The San Francisco Marathon Mile 25: Course Landmarks 2022
The San Francisco Marathon Mile 25 STATS
Neighborhood: Dog Patch/Mission Bay
Elevation Change: Start at at 54' ends at 2'
Stations (water/food/toilet): Water aid at 24.5 miles
Best Spot for Family/Support: Crane Cove Park
Can we say Golden State Warriors? SF Giants? This is an epic professional sports mile! We pass the Giants stadium and end at Warriors, champions in the NBA, who have their home at the end of Mile 25 of the San Francisco Marathon Course at the gorgeous Chase Center which signals the near end and jaunt to the final mile…26. Run like a champion in the city of champions!
But this Mile 25 starts a little quieter, with a nice run along Esprit Park, a little enclave nestled within Dog Patch. There will be a decline here as runners make their way to the waterfront. After crossing 3rd and getting to Illinois is one of the newest and nicest
parks in San Francisco, Crane Cove Park.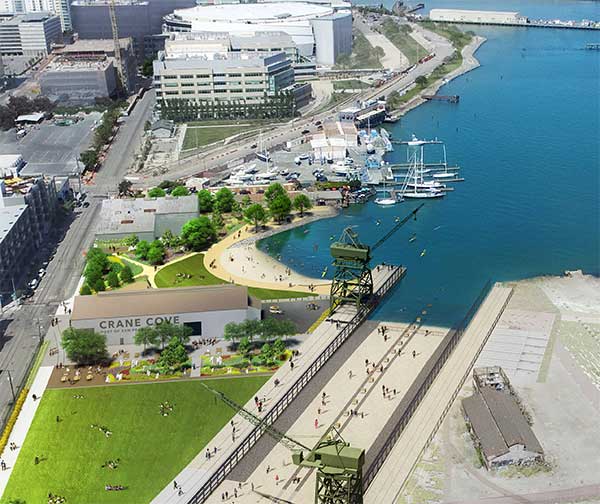 This 7-acre park transformed an inaccessible industrial shoreline into a stunning vista. When fully completed, the park will include two historic and restored cranes; a two-acre multi-purpose lawn with picnic and barbecue areas; a new beach to support water recreation; two distinct children's play areas; a dog run; an aquatic center for boaters with restrooms and a small café.
From here is turn right onto Terry A Francois St. (in 1964 Terry Francois became the 1st African American to serve on San Francisco Board of Supervisors). Along the waterfront you will pass the Chase Center, home of the Golden State Warriors as you near Pier 48, where runners are greeted by the 25-mile marker!
Mile 25 has a lot to see from the inner city to the parks!
You can expect lots of noise here, from fans and supporters as we head into the final mile of the race! Watch mile 25 and then then click the next and final mile!

Neurun is a course visualization app that equips you with the course knowledge and confidence to achieve your goals at The San Francisco Marathon. Download to start visualizing now.
Sponsored By